Una delle domande che mi fanno piú spesso: dove mangiare a Londra?
(Scroll down for English version)
E questo che sto per darvi potrebbe assolutamente essere un ottimo suggerimento per gli appassionati di buon cibo come me che cercano un buon posto dove mangiare a Londra!
Oltre a quelli che vi ho giá elencato in questo precedente articolo vi andró oggi a raccontare del posto meraviglioso nel quale sono stata ieri sera a cena, il "Searcys at the Gherkin", qui a Londra.
Ma prima un passo indietro. Un appuntamento che non potete farvi sfuggire se siete dei foodie incalliti e siete/sarete a Londra nel mese di ottobre di ogni anno è il London Restaurant Festival: una fi-ga-ta!
Ammetto la mia ignoranza, perché ne sono venuta a conoscienza per la prima volta solo pochi giorni fa (nonostante viva qua da quasi 7 anni), tramite un'articolo sponsorizzato su Instagram, dove appunto pubblicizzavano questo evento.
Il
London Restaurant Festival
si svolge nei migliori ristoranti della capitale della città.
Ci sono due elementi principali del festival: la "Restaurant experience" e il "festival menus"
La Restaurant experience si propone di offrire gli eventi più memorabili e creativi che si svolgono nei ristoranti stessi. Questi vanno da pranzi ospitati da chef famosissimi ai menu di degustazione dei vari ristoranti.
I "festival menus" invece sono la promozione più coveniente del festival: i menù dei vari ristoranti, tra cui Gordon Ramsey, la Oxo Tower, Il Gherkin e molti altri, vanno da 10 a 60 sterline e sono una scusa fantastica per provare quel ristorante che avete sempre voluto visitare!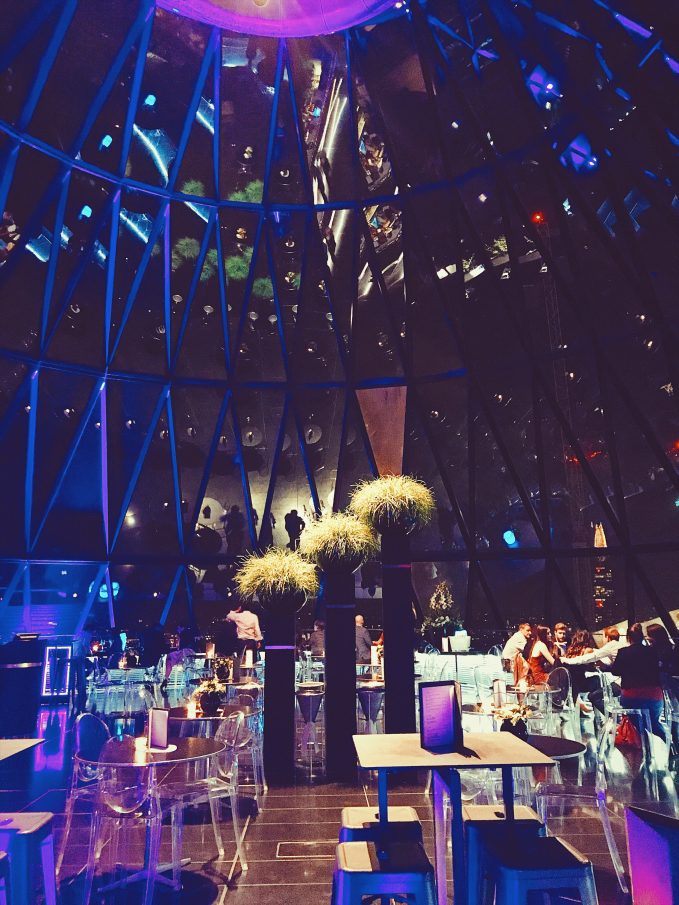 Io ho scelto di provare il Searcys at the Gherkin, il ristorante all'interno del mitico Gherkin, il "cetriolo" più famoso di Londra, scena di numerosi film tra cui Match Point di Woody Allen.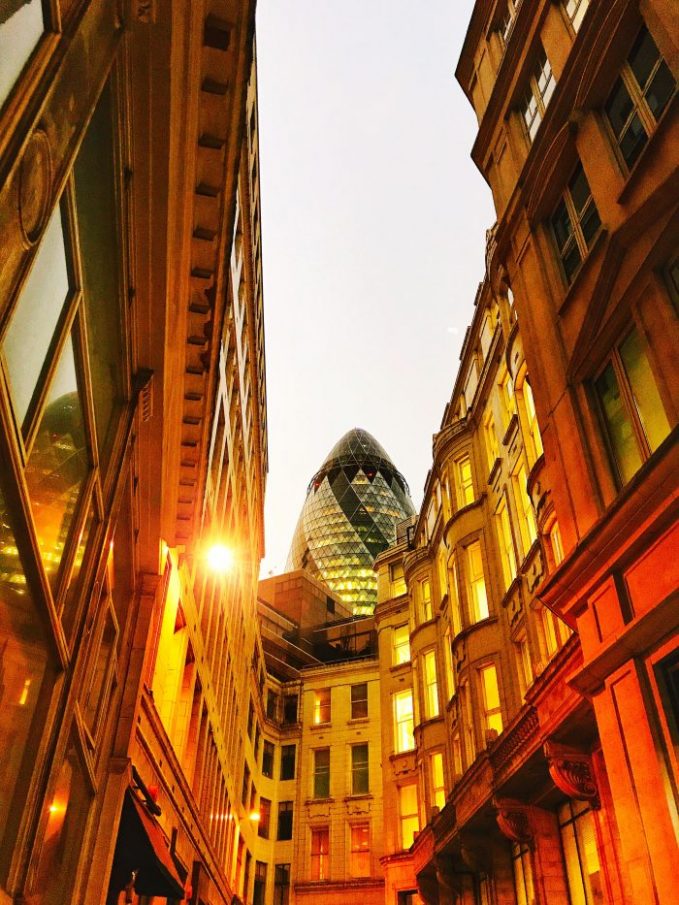 La vista dal 34mo piano del grattacielo è mozzafiato, poiché è a 360 gradi sullo skyline londinese. La carta dei vini è immensa, con prezzi che vanno dagli 8 Pounds a bicchiere fino ai 2700 pounds per un pregiato vino francese.
Io ho preso un buonissimo secondo, un brasato al vino rosso con pure di patate che si scioglieva in bocca.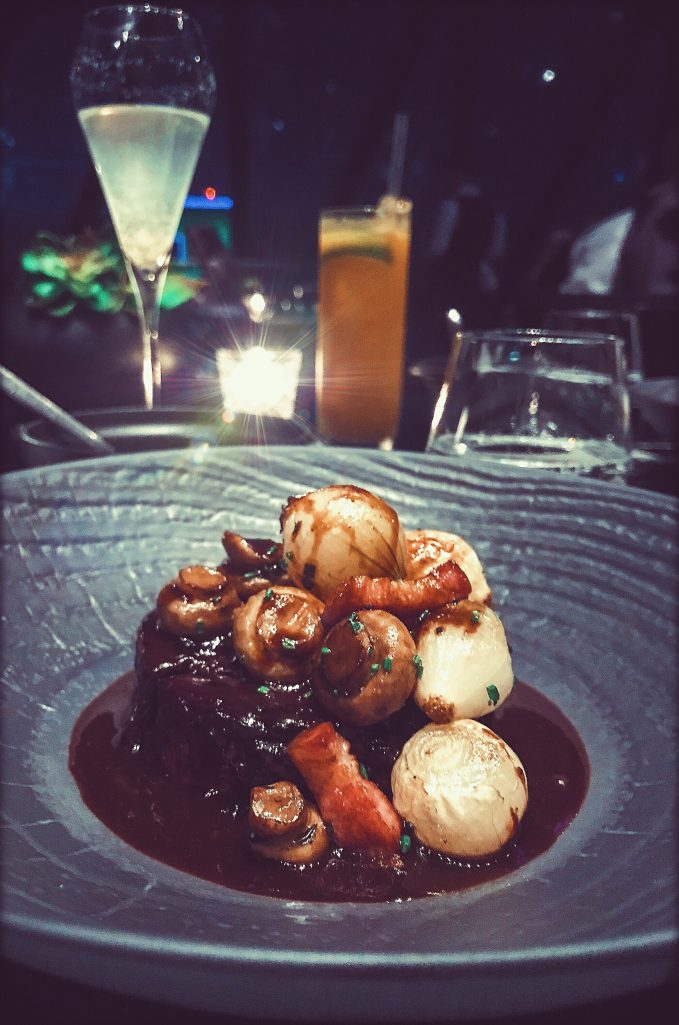 Il tutto accompagnato da dell'ottimo pane fatto in casa e burro fresco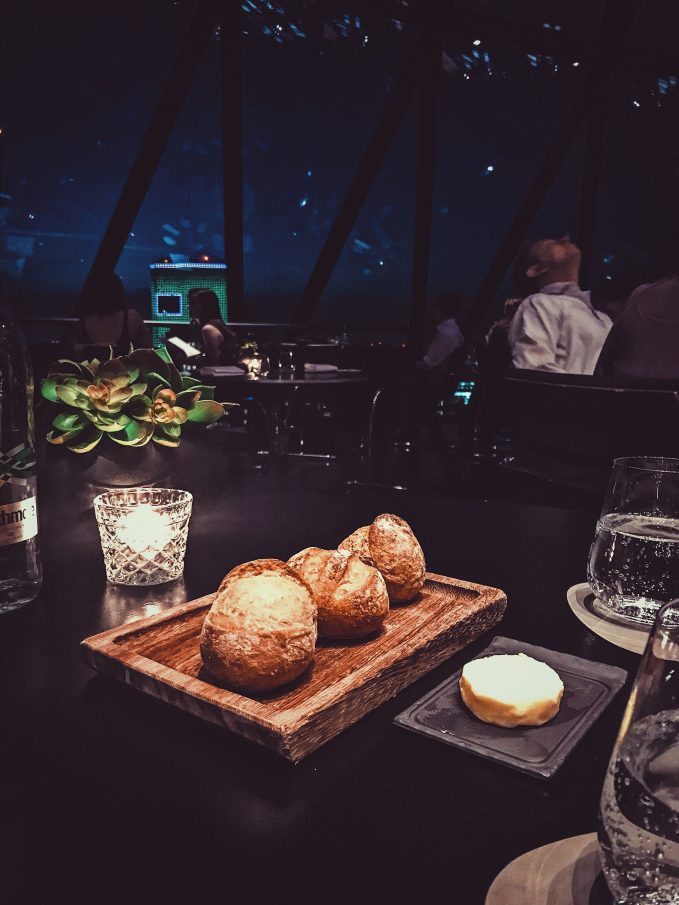 Mi credete se vi dico che poche volte ho mangiato una carne così buona? Non ho avuto neanche bisogno del coltello perché si tagliava praticamente solo con la forchetta. Una tenerezza ed un sapore mai provati, qui lo chef sa il fatto suo.
L'executive chef Barry Tonks ha cucinato in alcune delle migliori cucine di ristoranti di Londra da piú di vent'anni, guadagnandosi vari premi ed una stella Michelin.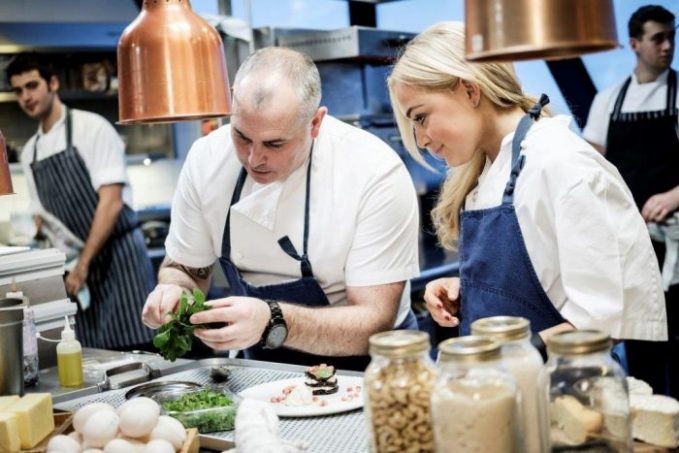 Il dolce buono, ma non "spettacolare". Una buona ganache tart al cioccolato con gelato al malto e gelatina alla Guinness.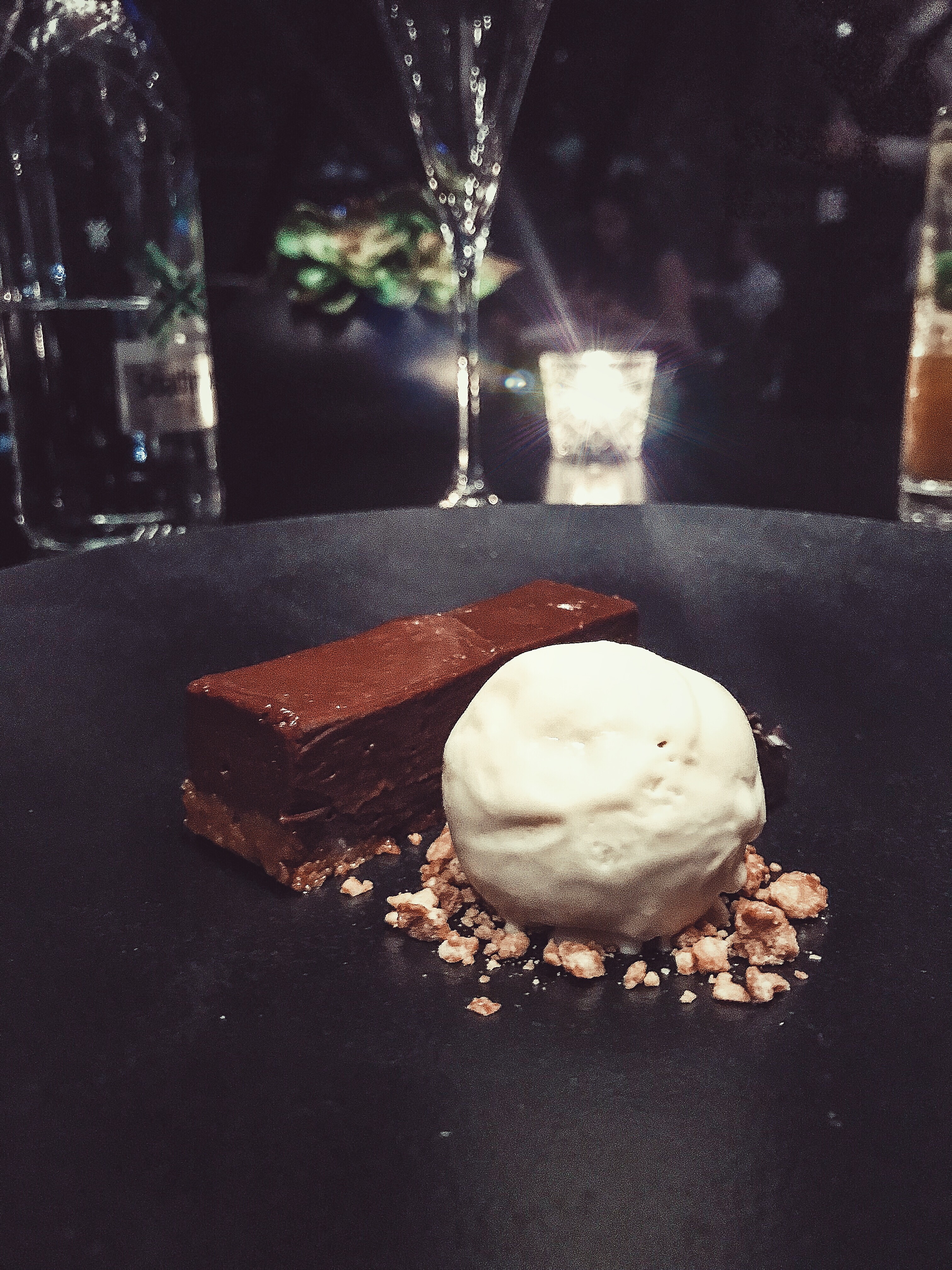 Dopo la cena si puó salire all'ultimo piano del Gherkin per un'ultimo cocktail, con vista. E che vista!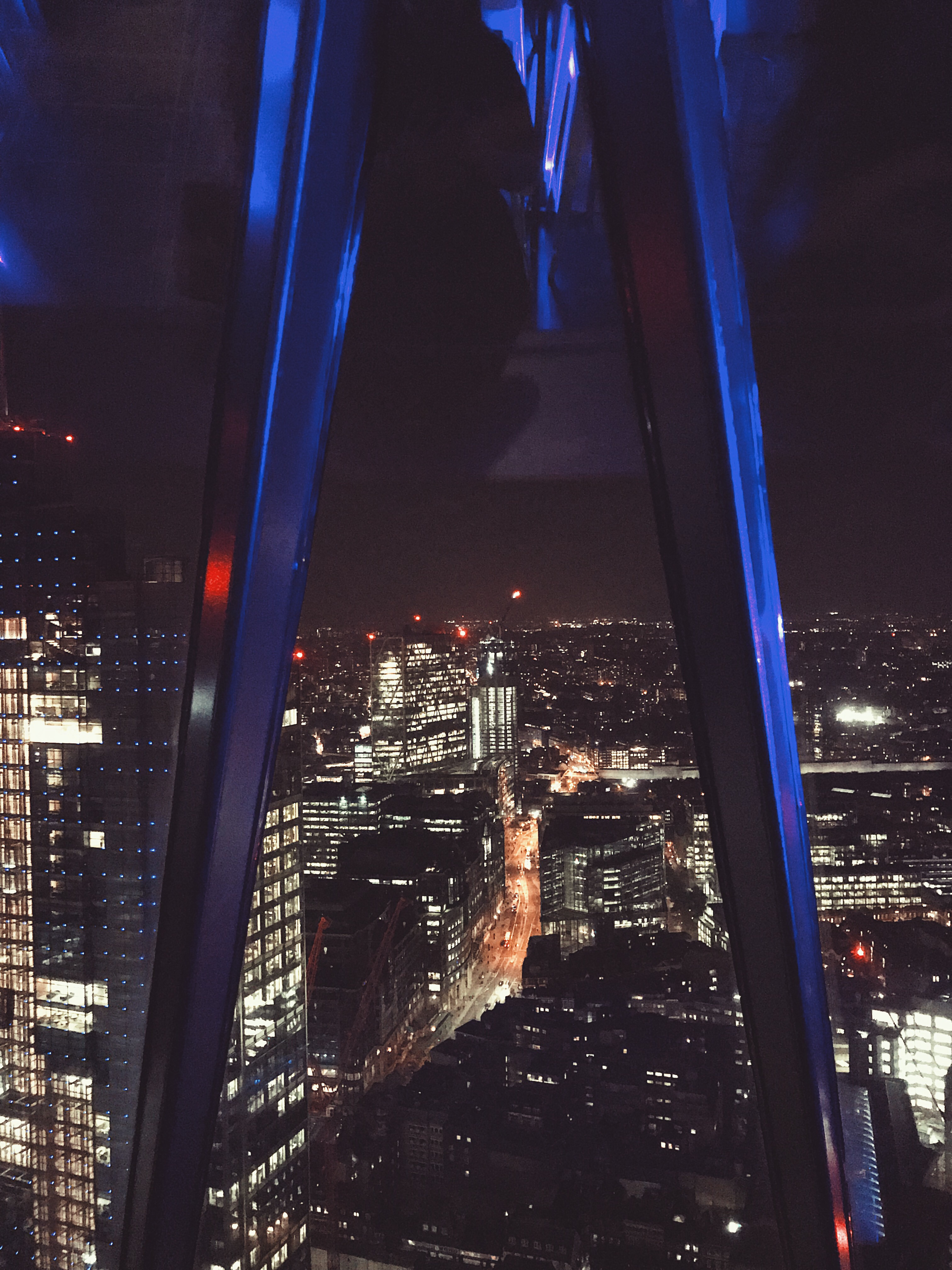 Un posto che vi consiglio assolutamente di provare se siete a Londra 🙂
30 St Mary Axe
London
EC3A 8EP
Tel: 020 7071 5025
Email: searcysreception@searcys.co.uk
English version
One of the most frequently asked questions that I receive is: where to eat in London?
And I'm just about to give you a great tip for food lovers like me, who are looking for an amazing place where to dine in London!
In addition to those I have already listed in this previous article, I will now talk about the wonderful restaurant I had the chance to try last night for dinner, the "Searcys at the Gherkin", located in the Shard, just around the corner from London Bridge.
But let's start from the very beginning! If you are a foodie, there is an unmissable appointment here in London each October, called the London Restaurant Festival: super cool!
I have to admit my ignorance, as I became aware of this event just a few days ago, through an article sponsored on Instagram. Despite living here for almost 7 years, there are always so many surprises in this big city!
The London Restaurant Festival involves the best restaurants in the capital and it includes two main elements: the "Restaurant Experience" and the "Festival Menus".
The "Restaurant Experience" aims to offer the most memorable and creative events that take place in the restaurants. These range from dinners hosted by famous chefs to tastings of the various restaurants' menus.
The "Festival Menus", on the other hand, are the festival's most convenient promotions: the menus of the various restaurants, including Gordon Ramsey, the Oxo Tower, The Gherkin and many others, ranging from £10 to £60. What a fantastic chance to try the restaurants you have always wanted to visit!
Amongst various options, I picked Searcys at the Gherkin, the restaurant inside the iconic skyscraper, the most famous "cucumber" in London, the setting of numerous movies including Woody Allen's Match Point.
The panoramic view from the 34th floor of the building is breathtaking, as it allows you to admire the complete London skyline. The wine list is never-ending, with prices ranging from £8 per glass up to £2700 for a fine French wine.
I took a delicious main course, a red wine braised beef with potato pure that melted in your mouth.
All accompanied by excellent homemade bread and fresh butter.
Believe me, if I tell you that I have eaten such good meat just a couple of times in my life. I did not even need a knife because it was cooked so perfectly I could use just the fork. The tenderness and taste of the meat were absolutely outstanding, here the chef knows his stuff!
Executive chef Barry Tonks has worked in some of London's finest restaurant for over twenty years, earning various awards and a Michelin star.
The dessert was good, but not outstanding. A good chocolate tart ganache with malt ice cream and Guinness jelly.
After dinner, you can go up to the top floor of the Gherkin for a last cocktail with a view. And what a view!
Definitely, a place that I highly recommend you to try if you are in London 🙂
Searcys at the Gherkin
30 St Mary Ax
London
EC3A 8EP
Tel: 020 7071 5025