Sono a dieta.
(Scroll down for English version)
Ebbene si, ormai da metá giugno mi sono messa a mangiare un pochino meglio perché il mio corpo ormai era saturo di grassi saturi (scusate il gioco di parole). Che poi, non posso neanche parlare di dieta perché non l'ho mai considerata una dieta vera e propria. Di diete ne ho provate di ogni tipo, ma questa é l'unica che su di me funziona, visto che non voglio farmi mancare nulla. Ma di questo vi parleró presto in un altro post, perché oggi mi voglio soffermare sulla bontá di questo pollo fritto con contorno di zucchine…anch'esse fritte!
E voi direte…ma come? Un fritto non puó essere light!
Era tempo che pensavo di acquistare una friggitrice ad aria, mi ha sempre incuriosita molto il fatto di poter friggere senza olio ma ottenere comunque un buon risultato. Ebbene, siccome non sono esperta di friggitrici non avendone mai avuta una, mi sono affidata alle "mani vurtuali" un sito che semplifica moltissimo il processo di ricerca di un prodotto, per chi come me non é pratico di un prodotto in particolare.
 Si tratta di QualeScegliere.it dove, in pratica, provano i prodotti per te, li recensiscono, li comparano a livello di prezzo e ti suggeriscono anche dove poter trovare il miglior prodotto al miglior prezzo disponibile sul mercato! Meglio di cosí, non si puó 😀
Ho deciso quindi di prendere la Air Fryer della Philips, con capacitá 1.2 kg, e che dire….un sogno! Ho fatto diverse prove di cottura, ho cucinato sia cibi giá impanati usando qualche spruzzata di olio, sia cibi senza impanatura e senza aggiunta di olio.
Il risultato é stato STREPITOSO in tutti i casi!
Se non vi dicessero che il pollo é stato fritto in questo modo, sicuramente lo scambiereste per un pollo fritto normalmente  in padella. Se si usa la panatura, il fritto rimane asciuttissimo e croccante fuori e morbido all'interno, assolutamente delizioso!
In questa ricetta vi dico il procedimento che ho usato io per preparare il pollo e le zucchine, ma davvero, potete usare la Air Fryer in moltissimi casi, addirittura ci si possono cucinare i dolci! (Sul libretto di istruzioni ho trovato la ricetta della cheesecake che voglio fare al piú presto!).
La friggitrice é come un forno mini diciamo, arriva in temperatura (180 gradi) in meno di 30 secondi e in meno di 10 minuti (a seconda delle pezzature che si preparano) cuoce i fritti facendoli rimanere con una bella crosticina croccante fuori e assolutamente non secchi all'interno!
Ora vediamo quali ingredienti vi serviranno per preparare questo delizioso
Pollo fritto con zucchine:
dose per una persona
Una zucchina tagliata a fettine di medio spessore
pane grattuggiato quanto basta (io ho usato pane che avevo in casa e che ho tritato)
1 uovo
1 cucchiaio di olio extravergine d'oliva
1 fettina di petto di pollo
Procedimento
Accendete la friggitrice e portatela a 180 gradi.
Sbattete l'uovo in una ciotola capiente.
Prendete il pollo e passatelo prima nell'uovo e poi nel pane grattugiato.
Condite le fettine di zucchina con l'olio extravergine e mischiate bene con le mani.
Sistemate le fettine di zucchina sopra un pezzetto di carta da forno e mettetele a cuocere nella friggitrice per 8-10 minuti circa a fianco del pollo.
Voilá! Pollo e verdure croccanti e buonissime pronte in un baleno!
Io sono rimasta scioccata dalla bontá dei piatti che mi sono preparata, anche il salmone mi é venuto benissimo e non c'é stato neanche bisogno di impanarlo o usare olio!
Fatemi sapere nei commenti se anche voi avete una friggitrice simili e che ricette mi consigliate di provare, se invece non ne avete ancora una, visto che Natale di avvicina, vi consiglio caldamente di comprarla perché io ora MAI PIÚ SENZA! 😀
A presto con altre ricette.
Angelina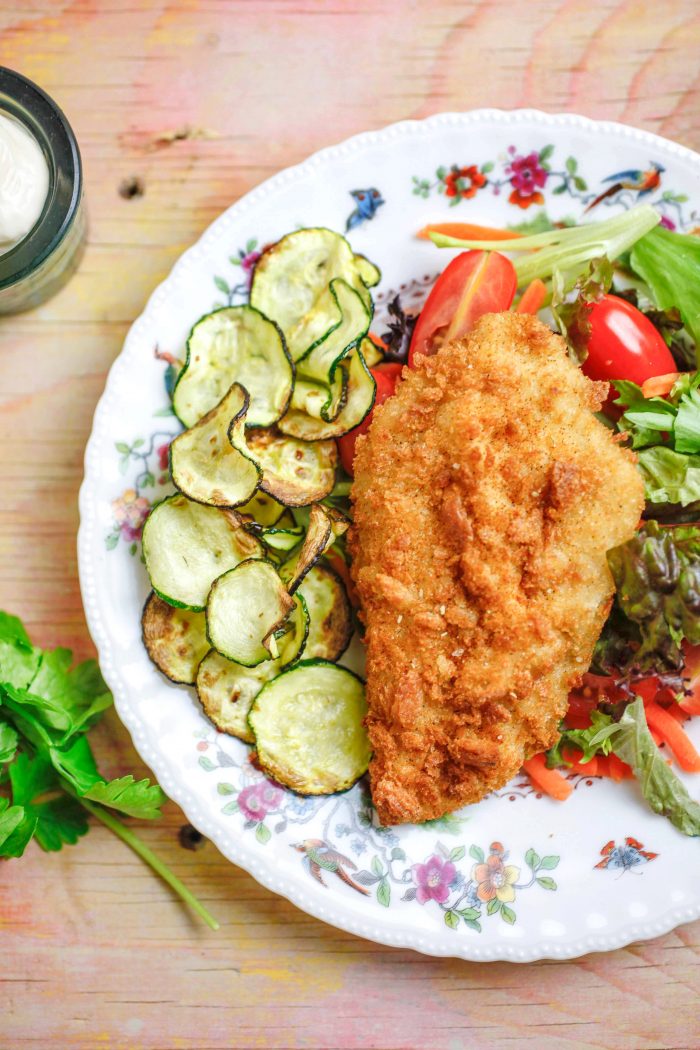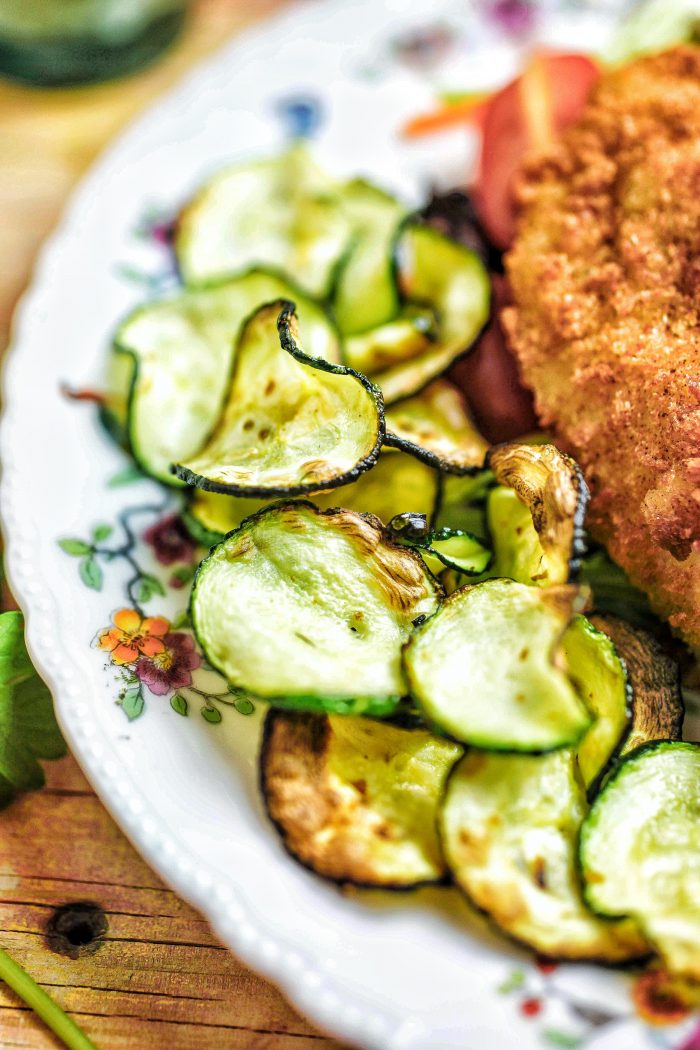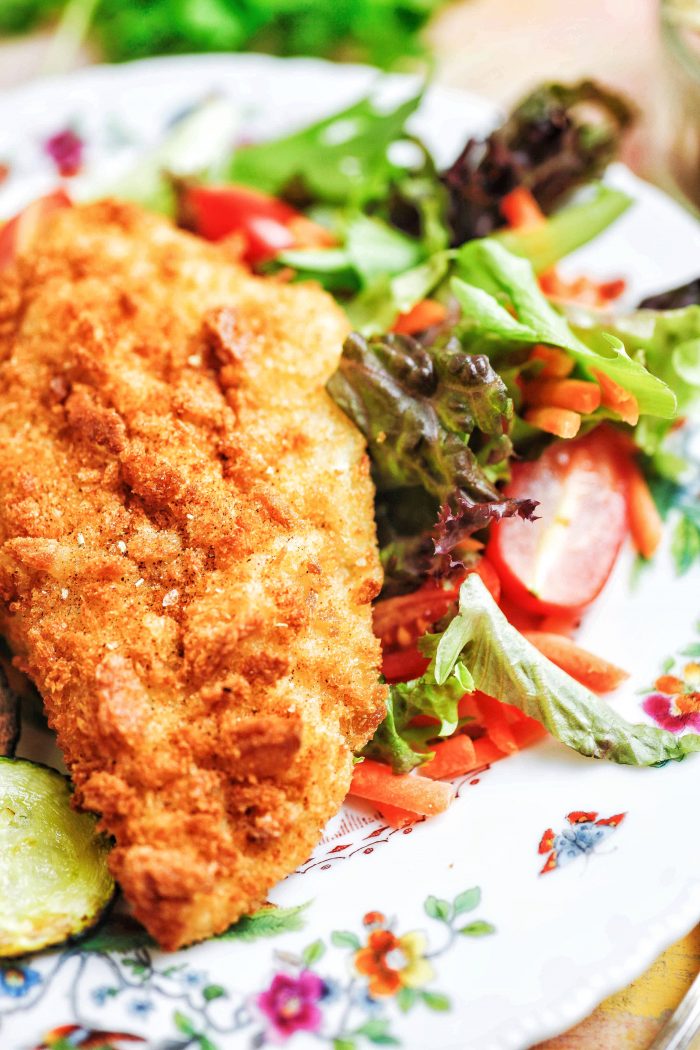 English version
I am on a diet.
Yes, since mid-June I started to eat a little healthier as my body was saturated with saturated fat (no pun intended). Well, I cannot even define this as a proper diet because I've never lived it as such. I have tried and experimented an endless list of diets, but this is the only one that really works for me, as it allows me to keep on eating a bit of everything. But I'll talk about this topic very soon in another post because today I want to focus on the deliciousness of this fried chicken breast with a side of courgettes … also fried!
I can understand you might be dubious… How can fried food be light?
I've been thinking for a long time to make an investment and buy an air fryer, I was very curious about being able to fry without oil and still get a perfect crispy result. As I've never owned a fryer I cannot really define myself an expert, therefore I had to put my trust in a fantastic search engine that greatly simplifies the process of searching for an appliance. It has been a lifesaver!
The website I've used is called QualeScegliere.it, and it works perfectly if you don't have a deep technical knowledge of a product but still want to make the best choice when making a purchase. The team tests the appliances for you, they publish reviews and compare them to other similar products; they also suggest where to find your preferred device at the best available price on the market!
After careful consideration, I've decided to go for the Philips Air Fryer, with a capacity of 1.2kg, and I could not have done a better choice! I did several cooking tests, I cooked both already-breaded foods using a few drops of oil and food without breading and without adding oil.
The result was SENSATIONAL in all the cases!
It was so excellent that the poultry looked and tasted like pan-fried chicken. If breading is used, the fried food remains very dry and crispy outside and soft inside, absolutely delicious!
In this post, I will tell you the procedure I used to prepare the chicken and courgettes, but obviously, you can use the Air Fryer for a wide list of recipes, you can even cook desserts with it! (In the instruction booklet I found a cheesecake recipe and I want to try it as soon as possible!).
The fryer looks like a mini-oven, it reaches the right temperature (180 degrees Celsius) in less than 30 seconds and in 10 minutes (depending on the size that you prepare) allows you to cook delicious fried meals with a nice crispy crust but still moist and succulent inside!
Now let's see what ingredients you will need to prepare this delicious fried chicken with courgette:
Ingredients for 1 person:
A courgette cut into medium-thick slices
Enough breadcrumbs to cover the chicken breast (I used some bread I had at home and I chopped finely to create the crumbs)
1 egg
1 tablespoon of extra virgin olive oil
1 slice of chicken breast
Method
Turn on the fryer and allow the temperature to reach 180 degrees.
Beat the egg in a large bowl.
Take the chicken and dip it first into the egg and then into the breadcrumbs in order to cover it fully.
Season the slices of courgette with extra virgin olive oil and mix well with your hands.
Place the slices of zucchini on a piece of baking paper and cook them in the fryer for about 8-10 minutes with the chicken breast.
Voila! Crispy and delicious chicken and vegetables ready in a few minutes!
I was shocked by the goodness of this dish, I have also tried a recipe with salmon and the result was incredible, there was no need to use bread crumbs or oil!
Let me know in the comments if you have a similar fryer and which recipes you recommend to try. If you do not have one yet, I strongly suggest you get one for Christmas, such a great investment!! 😀
See you soon with other recipes!