Scroll down for English version
Un'idea che mi è venuta pensando a come trasformare in cibo i pacchetti regalo che tra pochi giorni ci appresteremo a scartare sotto l'albero di Natale. Il pan carré è la prima cosa che mi è venuta in mente perché ben si presta all'idea che avevo in mente per la ricetta che volevo provare a fare. Fare questi pacchettini è molto semplice e richiedono davvero pochissimo tempo per essere assemblati. Sono talmente facili da fare che anche i vostri bambini potranno aiutarvi a farli! 🙂
Vediamo quali ingredienti vi servono per prepararne circa 15:
30 fette di pane carré o 10 fette di quello lungo per tramezzini
200 g di prosciutto di Praga (o del vostro prosciutto cotto preferito)
250 g di ricotta vaccina
150 g di asparagi al netto dello scarto
un paio di cucchiai di olio extravergine di oliva
sale e pepe quanto basta
Preparazione
Prendete le fette di pane carré e tagliate i bordi di crosta ai lati.
Con un matterello, lavorate il pane per bene per assottigliarlo il più possibile. Questa operazione può anche essere fatta con la macchina per tirare la pasta, ma con il matterello si riesce più che bene.
Sovrapponete due fette di pane l'una sull'altra di modo che i bordi combacino per bene e con l'aiuto di un tagliere con bordo non troppo spesso, spingete su tre lati per bene, in modo da sigillare il pane su 3 lati. Uno va lasciato aperto in modo da riempirlo poi con il ripieno. I lati non vi usciranno perfetti, dovrete rifilarli con un coltello, facendo attenzione a non andare troppo vicino al bordo tagliato perché altrimenti si riapriranno nuovamente. Gli scarti di pane che vi rimangono potete farli seccare in forno e farci poi del pan grattato, oppure conditi con un filo d'olio e messi in forno saranno degli ottimi crostini da minestra, così non butterete via nulla. Ora prepariamo il ripieno.
Mettete nel mixer la ricotta, il prosciutto fatto grossolanamente a pezzetti, un pochino di sale e pepe e frullate il tutto. Mettete la crema in una ciotolina e conservatela in frigo coperta da pellicola trasparente.
Prendete i vostri asparagi e dopo averli lavati ed asciugati tagliateli a rondelline abbastanza sottili ma non troppo. Fate scaldare l'olio extravergine in una padella antiaderente a fuoco medio e fate rosolare per qualche minuto le rondelle di asparagi. Salate e pepate secondo i vostri gusti e spegnete il fuoco. Le rondelle saranno pronte in un paio di minuti, giusto il tempo di scottarsi e di rimanere croccanti.
Prendete dal frigo la crema di ricotta e prosciutto ed aggiungetevi gli asparagi. Mescolate tutto bene con un cucchiaio di modo che sia tutto amalgamato.
Ora prendete una sac a poche e riempitela con il composto che avete preparato. Riempite le vostre taschine una alla volta facendo attenzione a non riempirle troppo perché altrimenti non riuscirete a chiuderle. Riempitele poco più della metà. Prendete ora nuovamente il tagliere che avete usato prima per sigillare i bordi e chiudete anche questo lato.
Continuate così anche per tutti gli altri pacchettini fino a quando non finirete il composto.
Decorate i vostri pacchetti con i nastri che più vi piacciono, di modo da farli sembrare dei veri e propri pacchetti di natale che potrete servire come antipasto durante la vostra cena natalizia.
Spero tanto che questa ricetta vi piacerà, perché è una delle mie preferite.
Un abbraccio! Alla prossima ricetta <3
Angelina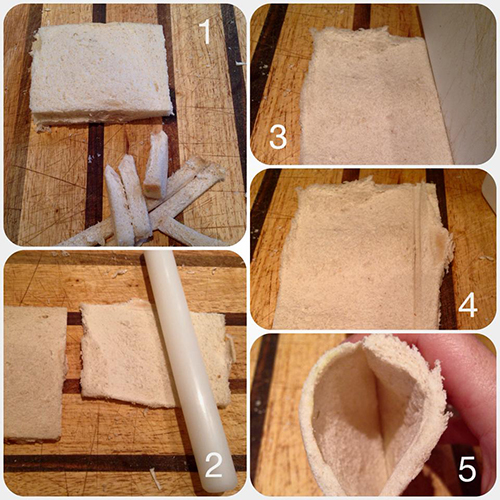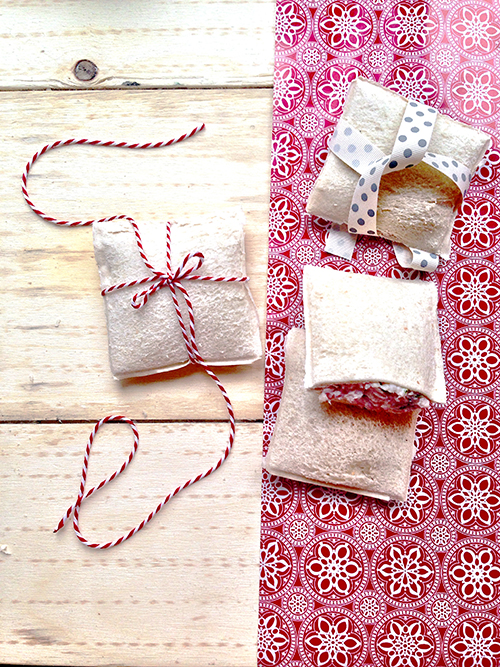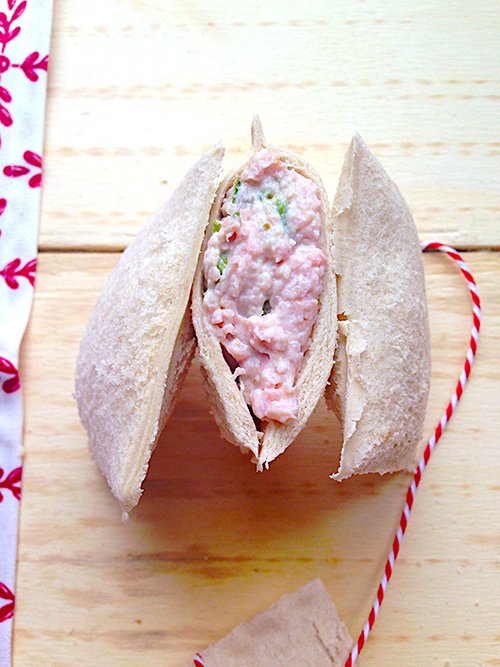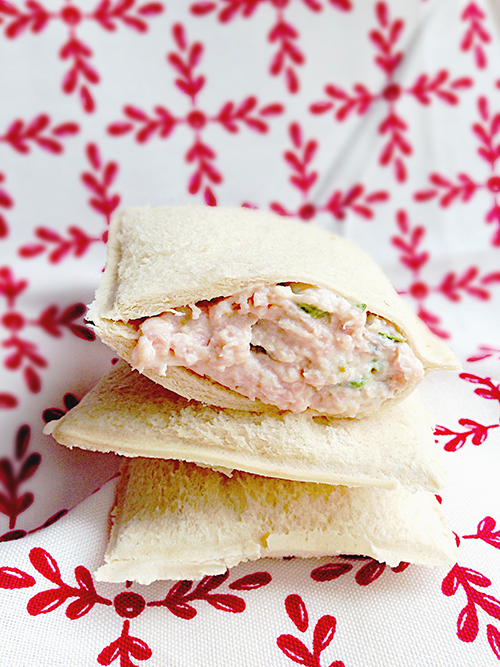 "Gifts" filled with Prague ham, asparagus and ricotta cheese
I wanted to create a special recipe and was wondering how to reproduce the shape of the gifts we will be unwrapping for Christmas. White bread squares were the first thing which came to my mind and it was just perfect!
Preparing these "gift packages" is quite simple and it takes no time to assemble them. You can even ask your children to help you! 🙂
Let's see what ingredients you need to prepare about 15:
– 30 slices of white bread (or 10 slices of the long bread for tramezzini/sandwiches)
– 200g of Prague ham (or your favourite cooked ham)
– 250g of ricotta cheese
– 150g of asparagus (after cutting the hardest part of the stalk).
– a couple of tablespoons of extra virgin olive oil
– salt and pepper to taste
Preparation
Take the slices of bread and cut the crust edges. With a rolling pin, knead the slices well so that they become as thin as possible. You can also use a pasta machine to pull the dough if you like, but it works quite well with a rolling pin.  Overlap two slices of bread so that the edges are aligned and, with a thin-edged cutting board, press well on three sides, in order to seal the bread. One is left open to stuff it. The sides will not be perfect and you will need to trim them with a knife. Be careful not to trim too close to the edge or they will open again.
If you don't want to throw them away, you can dry the remaining scraps of bread in the oven and use them as bread crumbs. You can also season them with a little olive oil and put them in the oven, and they will make perfect croutons for a soup :o)
Now let's do the stuffing. Put the ricotta cheese, coarsely chopped ham, a little salt and pepper in a mixer and blend all together. Put the cream in a small bowl, cover it with plastic wrap and put it in the fridge.
Wash the asparagus, dry them, and slice them thinly (but not too much). Heat the olive oil in a non-stick skillet over medium heat and brown the asparagus for a few minutes. Add salt and pepper as you like, and turn off the heat. They will be ready in a couple of minutes; they just need to cook and remain crisp.
Take the cheese and ham cream from the fridge, add it to the asparagus and stir well with a spoon.
Now put the cream into a pastry bag. Fill the small gift packages one by one, up to just above half as you will need to seal them. Now use the cutting board again to seal the edge on the fourth side. Do the same for all.
Decorate your gift packages with the ribbons of your choice, so that they look like real Christmas gifts, and you can serve them as a starter during your Christmas dinner.
I really hope that you'll like this recipe because it is one of my favourites.
A hug! See you later with other recipes! 🙂
Angelina