Scroll down for English version
Una ricetta golosissima che non potete perdervi: paccheri ripieni. Questa è una di quelle ricette per la quale forse taglierete il like dal mio blog a causa della frittura di innocenti paccheri, ma dovevo provare assolutamente a farla.
In pratica, come già vi ho preannunciato, si tratta di paccheri ripieni e… Fritti. Si si, avete capito proprio bene. I paccheri, uno dei formati di pasta che preferisco. Di solito siamo abituati a mangiarli accompagnati da salse o magari al forno ma in questo caso i paccheri diventeranno un originale e gustosissimo aperitivo da condividere con gli amici in occasioni speciali. Vediamo quali ingredienti servono per prepararli.
Ingredienti per riempire 12 paccheri
100 g di prosciutto cotto;
60 g di parmigiano grattugiato;
pane grattugiato quanto basta;
1 litro di olio di semi di arachidi;
…E ovviamente 12 paccheri.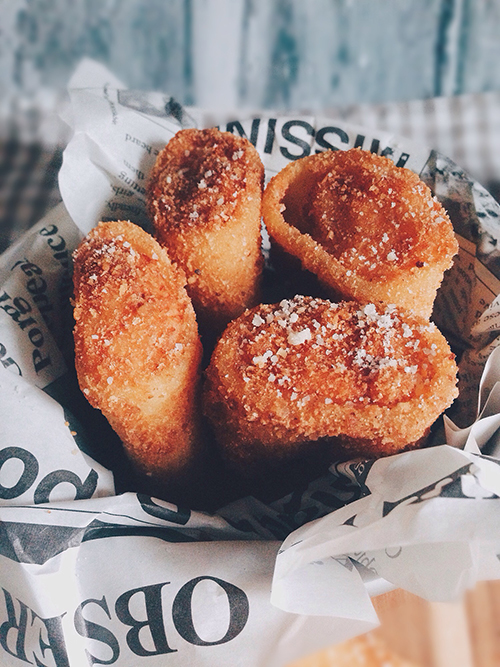 Procedimento
Cottura dei paccheri
Iniziate cuocendo i paccheri in abbondante acqua salata. Dovrete cuocerli fino a quando non saranno al dente. Mi raccomando non cuoceteli troppo altrimenti si romperanno e non riuscirete più a riempirli.
Una volta che i pacchi saranno cotti, al dente, scolateli e immergeteli subito in abbondante acqua molto fredda. Questo servirà ad interrompere la cottura.
Scolate i paccheri dall'acqua, ed appoggiateli sopra abbondante carta da cucina assorbente. Asciugateli per bene e lasciateli da parte.
Preparazione del ripieno
In un mixer mettete il prosciutto, la Philadelphia, l'halloumi ed il parmigiano e tritate tutto insieme. Mettete il composto in una ciotola e poi in frigo.
Iniziate a far scaldare l'olio in una pentola dai bordi alti. Mentre aspettate che l'olio arrivi a temperatura, con l'aiuto di una sac à poche, iniziate a riempire i vostri paccheri in modo che siano belli pieni e che non abbiano bolle d'aria al loro interno. Questa operazione la potrete fare anche con l'aiuto di un cucchiaio se non avete una sac à poche, ci metterete solo un pochino più di tempo.
Sbattete l'uovo in una piccola ciotolina ed iniziate a impanare i paccheri prima passandoli nell'uovo e poi nel pane grattugiato. Fate bene attenzione di impanare anche e soprattutto i lati con il ripieno di modo tale che durante la cottura il ripieno stesso non fuoriesca.
Quando l'olio sarà giunto a temperatura, e potrete capirlo facendo cadere un pizzico di pane grattugiato al suo interno che se sfrigolerà vi indicherà che l'olio sarà caldo abbastanza, immergete tre o quattro paccheri alla volta.
Fate friggere i paccheri circa un paio di minuti e quando saranno ben dorati su tutti lati scolateli su abbondante carta da cucina assorbente.
I paccheri saranno buonissimi sia caldi appena fatti che anche freddi. Un'ottima idea per un aperitivo stuzzicante e un po' diverso dal solito, ricordate che potrete farcire i vostri paccheri come più vi piace. Io ho pensato di farcirli con quello che avevo nel frigo ma voi lasciatevi guidare dalla vostra fantasia.
Spero tanto di questa ricetta vi sia piaciuta.
Buon appetito.
Angelina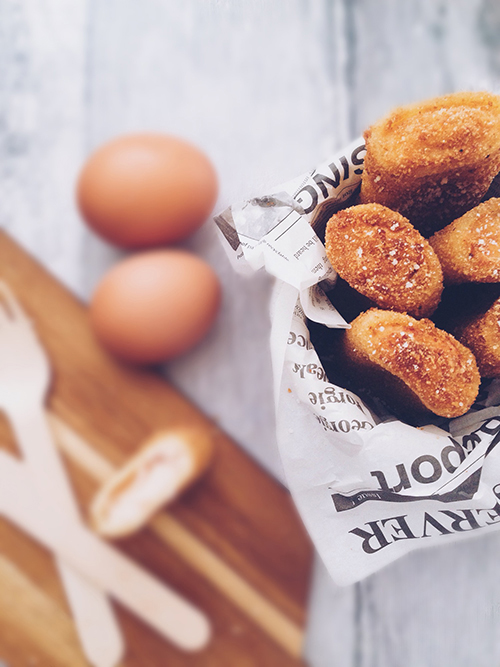 Fried paccheri stuffed with ham, halloumi and Parmesan cheese
A luscious recipe you have to try.  I guess some of you may remove their "like" from my blog because I'm going to fry Paccheri, but I really had to try this recipe… lol ;o)
Paccheri are one of my favourite pasta shapes. Usually we eat them accompanied by sauces or maybe baked, but in this case the Paccheri become an original and tasty appetizer to share with your friends on special occasions. Let's see what ingredients you need to prepare them:
Ingredients to stuff 12 Paccheri
100 g of halloumi cheese;
60 g grated Parmesan cheese;
80 g of Philadelphia (soft cheese);
Bread crumbs (as much as you like);
… And of course 12 Paccheri.
Preparation
Start cooking the Paccheri in plenty of salted water. You'll need to cook them until they are al dente. Please be careful not to over-cook them, or they will break and you won't be able to stuff them properly.
Once the Paccheri are cooked al dente, drain them and plunge them immediately in very cold water. This is to stop the cooking. Drain the Paccheri, and place them on kitchen blotting paper. Dry them well and let rest.
Now prepare the filling. In a mixer put the ham, Philadelphia (soft cheese), halloumi and Parmesan cheese and chop them all together. Put the mixture into a bowl and then refrigerate.
Start heating the oil in a deep saucepan. While waiting for the oil to get hot, take a pastry bag and start stuffing your Paccheri. They need to be quite full and with no any air bubbles at all. If you do not have a pastry bag, you can also complete this operation using a spoon, it will just take you a little bit more time.
Beat the egg in a small bowl and start breading the Paccheri: dip them in the egg and then in the bread crumbs. It is important you don't forget to bread the sides as well, so that the stuffing does not leak out during the cooking.
When the oil is hot – and you can check if this is okay simply dropping a pinch of bread crumbs into it, as they will sizzle if this is the right temperature -, dip three or four Paccheri at a time. Fry the Paccheri for a couple of minutes and when they get golden brown on all sides, drain them on kitchen blotting paper.
The Paccheri are delicious both freshly made and hot, as well as cold. A great idea for an appetizing and non-traditional aperitif. Just remember you can stuff your Paccheri with whatever you like. I thought I would stuff them with what I had in my fridge, but you can be really creative here!
I really hope you enjoyed this recipe.
Enjoy your meal.
Angelina