Forse il mio dolce preferito: il New York cheesecake. Questo dolce si pensa che nacque nell'antica Grecia, ma quando i Romani la conquistarono, il cheesecake iniziò a diventare famoso ben presto in quasi tutta Europa e successivamente in America. Una delle varianti più famose di questo dolce è la New York Cheesecake, la versione più basica in generale, cotta al forno.
Esiste anche una versione senza cottura di questa torta, ma la versione "classica", cotta in forno, rimane per me la migliore in assoluto. Interessante sapere che anche il Giappone e l'Africa hanno la loro versione di questo dolce, ma di queste, vi parlerò nei prossimi post.
Vediamo ora la ricetta base per preparare una classica New York Cheesecake (ricetta adattada da joyofbaking.com)
Ingredienti:
Per la base di biscotti:
200 grammi di biscotti Digestive (o simili) finemente sbriciolati
50 grammi di zucchero di canna
120 grammi di burro fuso
Per il ripieno (tutti gli ingredienti dovranno essere a temperatura ambiente):
850 grammi di formaggio spalmabile
200 grammi di zucchero semolato
35 grammi di farina
5 uova intere a temperatura ambiente
80 ml di panna liquida per dolci
1 cucchiaio scorza di limone
1 cucchiaino di estratto di vaniglia
Istruzioni:
Preriscaldate il forno a 180 gradi.
In un robot da cucina, mettete gli ingredienti per la base della torta e frullate fino a quando non otterrete un composto umido e sabbioso. Prendete una teglia del diametro di 20 cm e ungetelo un pochino con del burro, anche sui lati. Sistemate il composto di biscotto nella teglia e schiacciatelo bene sul fondo della tortiera e un po' anche sui lati. Mettete in frigo a riposare.
Per il ripieno:
Mettete il formaggio, lo zucchero e la farina nella ciotola di un mixer elettrico.
Lavorate il formaggio fino a quando non avrà raggiunto una consistenza molto cremosa. Ricordatevi di fermare il robot e tirare giù' il formaggio finito sui lati, per incorporarlo al resto dell'impasto.
Aggiungete le uova uno alla volta, non inserite nessun altro uovo fino a quando il precedente non sarà completamente assorbito. Aggiungete ora la panna, la scorza di limone, l'estratto di vaniglia e lavorate l'impasto per un altro paio di minuti. Togliete ora la base di biscotto dal frigo e versatevi all'interno il ripieno di formaggio, livellando un pochino la superficie con il dorso di un cucchiaio.
Mettete la tortiera sopra una placca da forno e infornate nella parte centrale del forno per 15 minuti a 180 gradi. Passato questo tempo, abbassate la temperatura a 120 gradi e fate cucinare per circa un'ora, un'ora e mezza. Il tempo di cottura varia molto a seconda del forno usato, ma potrete capire che la torta sarà pronta quando muovendo leggermente la teglia, vedrete il centro della torta muoversi ancora leggermente, non dovrà essere perfettamente ferma.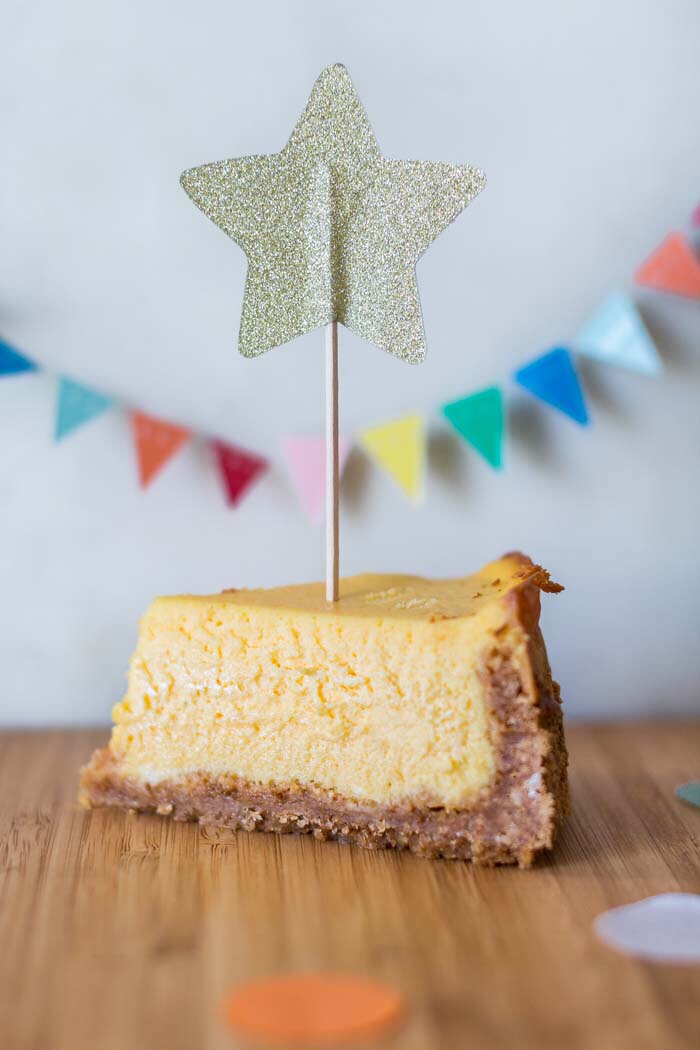 Maybe my favourite dessert above all: the New York cheesecake. It seemed to be a very popular dish in ancient Greecebut when it has been conquered by the Romans, that this cake started to become famous quickly in most of Europe and later also in America. One of the most popular variants of this cake is the New York Cheesecake, the most basic version, cooked in the oven. There is also a non baking version of this cake, but the classic version, the New York one, remains the one and the only, for me.Interestingly, even Japan and Africa have their own version of this cake, but I will talk about them in my future posts.
Now let's see the basic recipe to make a classic New York cheesecake (adaoted recipe from joyofbaking.com)
Ingredients
For the biscuits base:
200 grams of Digestive cookies (or similar) finely crumbled
50 grams of brown sugar
120 grams of melted butter
For the filling (all ingredients should be at room temperature):
850 grams of cream cheese
200grams of caster sugar
35 grams of flour
5 whole eggs
80 ml of double cream
1 tablespoon of lemon zest
1 teaspoon of vanilla extract
Instructions:
Preheat oven to 180 degrees.
In a food processor, place the ingredients for the cake base and blend them until you get a wet and sandy mixture. Take a baking pan of 20 cm diameter and grease it with a little bit of butter, even on the sides. Put the mixture into the cake tin and flatten well on the bottom of the pan and even on the sides. Put in the fridge to rest.
For the filling:
Put the cream cheese, sugar and flour in a bowl of a stand mixer.
Processthe mixture until it reaches a creamy consistency. Remember to stop the mixer and pull down the mixture from the sides, to incorporate it to the rest of the dough.
Add the eggs one at a time, do not put any other egg in the mixture until the previous is completely absorbed. Now add the cream, lemon zest, vanilla extract and mix the dough for a couple more minutes. Now remove the biscuit base from the fridge and pour in the cheese filling, levelling the surface a little bit with the back of a spoon.
Put the pan above a baking sheet and bake in the central part of the oven for 15 minutes at 180 degrees. After this time, lower the temperature to 120 degrees and let it cook for about an hour, hour and a half. The cooking time varies depending on the oven you used, but you will understand that the cake is ready when slightly moving the pan, you will see the centre of the cake that is still slightly bubbly, it doesn't need to be perfectly still as once outside the oven it will continue to cook a bit.
Let it rest outside the oven until completely cool and put in the fridge overnight to rest.