Queste mezzelune veloci sono una buonissima idea per chi non ha tempo da dedicare a un impasto lievitato, ma che comunque vuole preparare qualcosa fatto in casa con le proprie manine.
Ottimo antipasto dicevo, ma anche ottimo dolce, dato che queste mezzelune possono benissimo essere riempite anche con marmellata o, perchè no, Nutella.
Devo dire che questa ricetta è davvero utile e versatile e si adatta ad un sacco di preparazioni diverse. Ringrazio Valeria, del blog "Vale cucina e fantasia" per avermela fatta scoprire.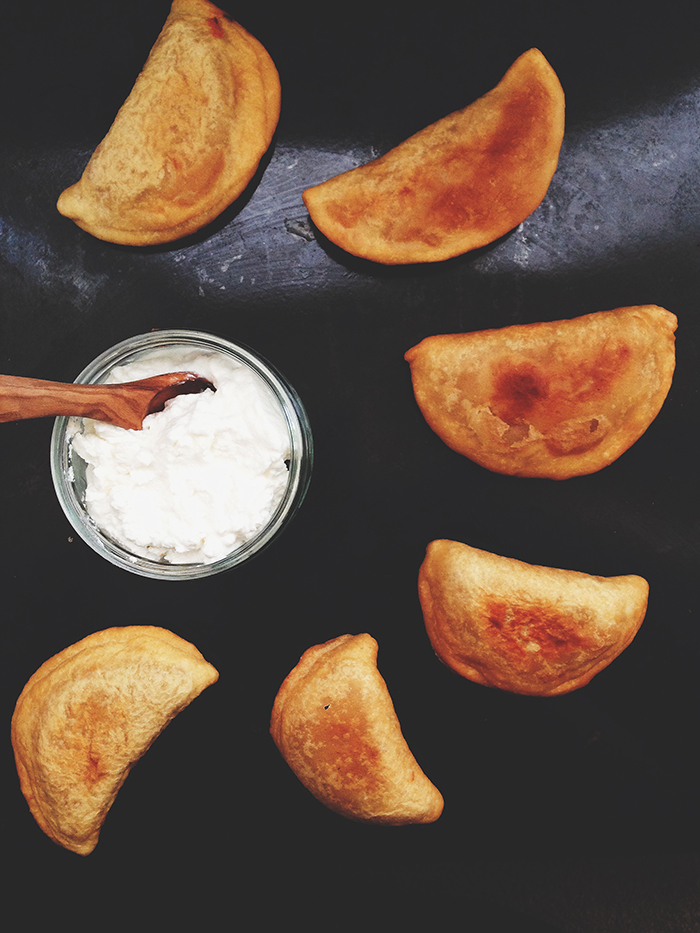 Ingredienti per 16 mezzelune
1 cucchiaio di lievito istantaneo per preparazioni salate (io non l'ho messo);
3 cucchiai di olio extravergine di oliva;
16 fettine di salame piccante;
provola o formaggio per pizza (io ho usato cheddar cheese);
olio per friggere, 1 litro.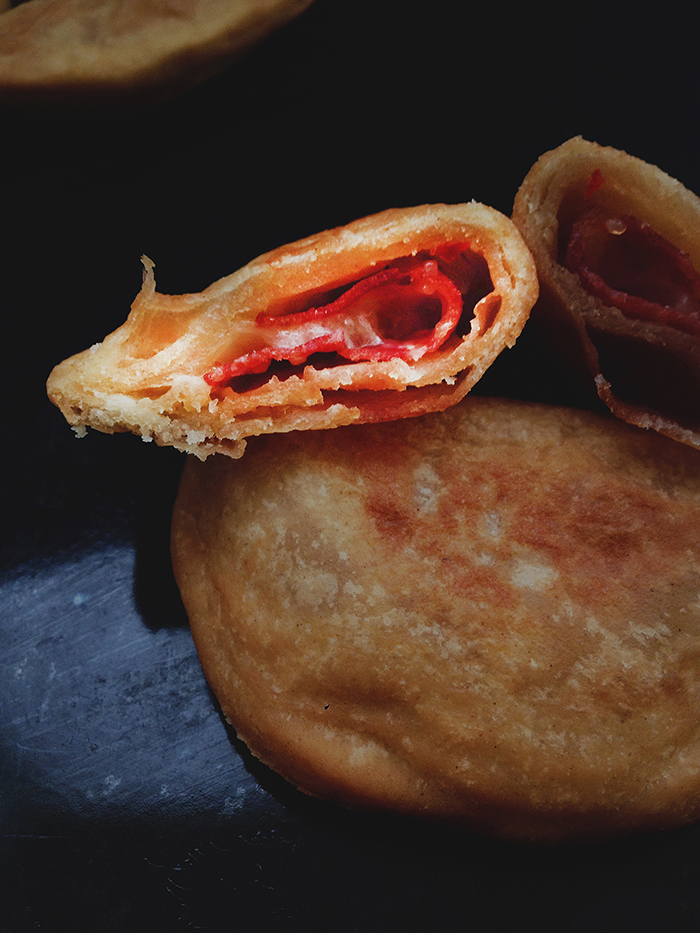 Procedimento
Mettete la farina, la ricotta, l'olio, l'acqua ed il sale tutti insieme in una ciotola bella capiente ed impastate bene fino a quando non otterrete una palla liscia.
Fate riposare l'impasto per una decina di minuti e poi stendetelo abbastanza sottile.
Con l'aiuto di un bicchiere usato come fosse una formina, ricavate tanti cerchi dall'impasto, eliminate l'eccesso, impastatelo nuovamente, e tiratelo di nuovo. Proseguite così fino a quando non l'avrete finito.
Condite ogni cerchio di impasto con una fettina di salame ed un pochino di formaggio.
Piegate il cerchio a metà per chiuderlo e sigillatelo bene ai bordi, in modo che l'impasto non potrà fuoriuscire.
Fate scaldare l'olio in una padella abbastanza grande e fate friggere poche mezzelune alla volta, per non far abbassare troppo la temperatura dell'olio.
Scolate le mezzelune sopra abbondante carta da forno e servitele calde.
Volendo, le mezzelune si possono anche cuocere in forno a 180 gradi, spennellate con un goccino d'olio, fino a doratura delle stesse.
Le combinazioni per il ripieno di queste mezzelune sono davvero infinite, potreste infatti farcirle anche con:
… E tutto quello che la vostra fantasia vi suggerisce.
Spero tanto che proverete a farle perchè sono davvero super buone e facilissime da fare, ma soprattutto veloci! 🙂
Buon appetito a tutti!
Angelina
Scroll down for English version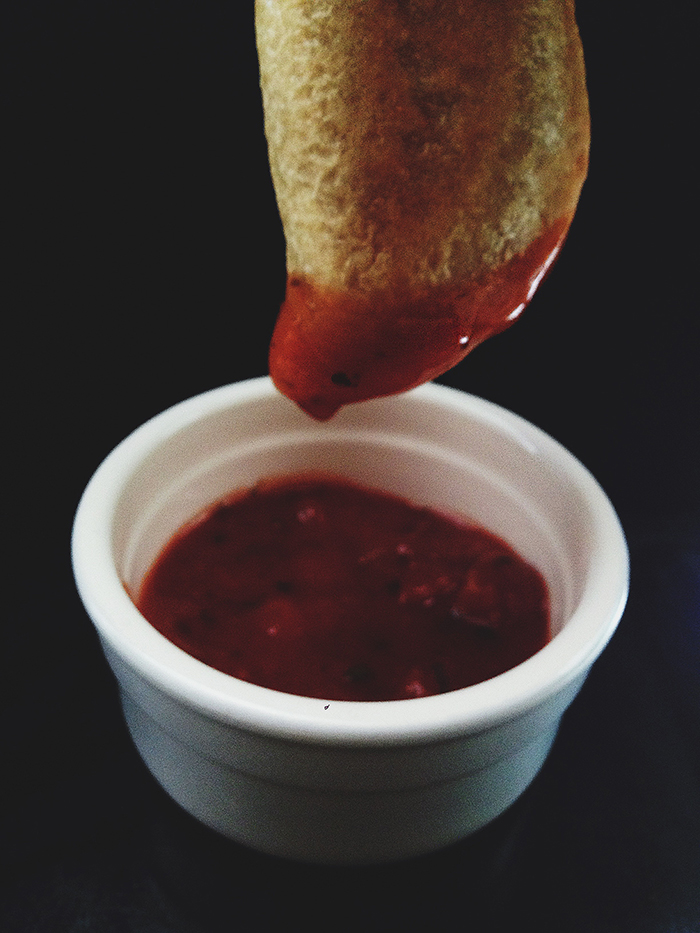 Fast mezzelune with spicy salami and cheddar cheese
You have got no time to prepare a dough but still want to prepare something wonderful and homemade? This is the perfect recipe for you!  A great appetizer, but also excellent dessert, as you can also fill them with jam or why not, Nutella.
This recipe is really useful and versatile and you can prepare it in many different ways. Thank you to Valeria and her blog "Vale cucina e fantasia" for this great idea!
Here are the ingredients you'll need to make about 16
1 tablespoon of instant yeast for savoury dishes (I have not used it);
3 tablespoons of extra virgin olive oil;
Provola or pizza cheese (I used cheddar cheese);
Preparation
Put the flour, ricotta, oil, water and salt together in a large bowl and mix well until you get a smooth ball. Let it rest for about ten minutes and then roll it out rather thin.
With a glass which you will use as a cookie cutter, cut out circles. Knead again the remaining dough, roll it out and cut out more circles.
Season each circle of dough with a slice of salami and a little bit of cheese, then fold it in half and make sure it is sealed well (so that the filling does not leak).
Heat the oil in a large skillet and fry the crescents (just a few at a time, to maintain the oil temperature).
Drain the crescents on kitchen blotting paper and serve hot.
If you prefer, you can bake them at 180 degrees instead, brushing them with a little oil, and they will get golden brown.
You can use any filling like for these crescents. Here are some examples:
courgettes and gorgonzola;
…. This is endless!
I really hope that you will try to make them… They are extra super good… Very easy to do… But above all, very fast to make! 🙂
Enjoy your meal!
Angelina