Scroll down for English version
Gnocchi fritti. Questa sarà la ricetta più breve nel mondo. Perché per prepararla servono solo 2/3 ingredienti.
E chi poteva essere l'inventrice di questa turbata se non la mia adorata Nigella Lawson? Sì proprio lei. Durante uno dei suoi programmi tv, aveva preparato una volta questi buonissimi gnocchi di patate fritti.
Ma attenzione: non quelli realizzati in casa, che comunque richiedono del tempo per essere preparati, ma quelli in busta, già pronti al supermercato.
Non gridate subito allo scandalo, vi prego. La scelta infatti di questo prodotto già pronto, secondo me, non è del tutto sbagliata perché, quelli che compriamo al supermercato, rimarranno inevitabilmente più compatti durante la cottura, e il risultato finale sarà ottimo! Se però ancora siete scettici e non volete proprio usare gli gnocchi in busta, cliccate qui per la ricetta dei miei gnocchi fatti in casa in pochissimo tempo.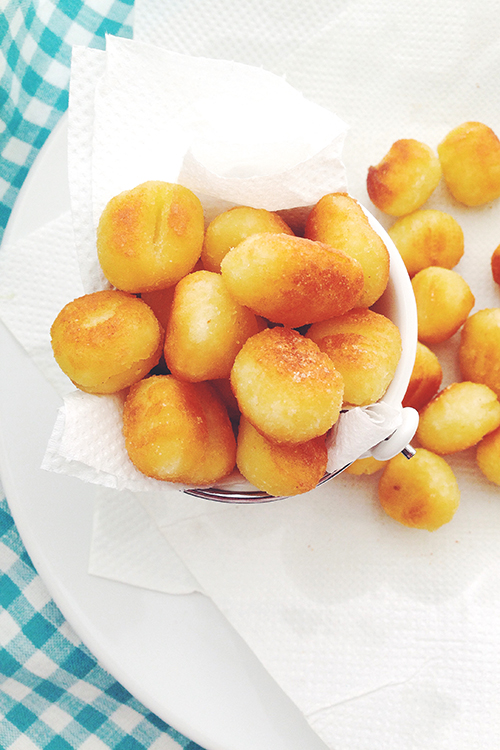 Ingredienti per 3 persone
1 pacco di gnocchi di patate di buona qualità da 250 g;
4 cucchiai di olio extravergine d'oliva.
Preparazione
In una padella antiaderente (questo è importantissimo, altrimenti gli gnocchi si attaccheranno tutti) fate scaldare l'olio extravergine.
Giunto ad una temperatura abbastanza elevata, tuffateci dentro tutta la busta degli gnocchi. L'unica cosa importante è che gli gnocchi siano su di un unico strato e non uno accavallato all'altro. In questo modo la cottura sarà uniforme e perfetta.
Fate cuocere a fiamma medio alta gli gnocchi per circa 8 minuti, o comunque fino a quando non saranno cotti e dorati su tutti i lati.
Scolateli su abbondante carta da cucina assorbente e serviteli caldi salandoli e pepandoli a piacere.
Questa ricetta non richiede la precottura degli gnocchi, quindi si può preparare anche all'ultimo minuto e spariranno in ancor meno tempo! 🙂
W il finger food.
A presto!
Angelina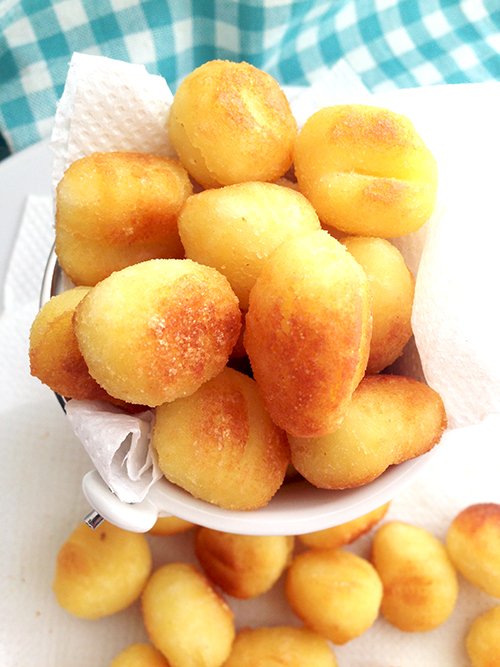 Fried gnocchi
This must be the shortest recipe in the world! You will just need 2 or 3 ingredients to prepare it. And who created this clever recipe? … Nigella Lawson of course.
She prepared these delicious fried potato gnocchi during one of her TV programs. But hang on: we are not talking about the home-made gnocchi here – which take time to prepare – but ready-made gnocchi, from the supermarket.
Please do not say this is awful before trying them!!! I think it works quite well as the gnocchi will inevitably remain more compact during the cooking and the end-result will be great!
Still, if you are sceptical and do not want to use the ready-made gnocchi, please click here for my recipe to prepare them in no time at home.
Ingredients for 3 people
1×250 g pack of good quality potato gnocchi;
4 tablespoons of extra virgin olive oil.
Preparation
In a non-stick pan (this is very important, otherwise the gnocchi will stick to each other), heat the olive oil. Once it is hot, pour the whole pack of gnocchi.
The gnocchi should be on one single layer and not overlapping, this is very important. This way, the cooking will be uniform and perfect.
Cook the gnocchi for about 8 minutes over medium-high flame, or at least until they are cooked and golden on all sides.
Drain them on kitchen blotting paper and serve hot, adding salt and pepper to your taste.
You do not need to pre-cook the gnocchi in this recipe. You can prepare it at the very last minute… And it will take even less time to eat them all!  Hurray for the  finger food!! 🙂
See you soon!
Angelina