Please scroll down for English version
Realizziamo un crocchè di risotto agli asparagi con mortadella e tomino di capra.
Pochi giorni fa sono stata a Bologna per essere madrina di battesimo di Linda, la mia figlioccia. Ci siamo ritrovati quindi io, mia mamma, mio papà e i genitori della bimba a casa un giorno e mia mamma ovviamente si è messa a spignattare come una matta.
Non regolandosi mai molto bene sulle porzioni, ha preparato un risotto agli asparagi che, ça va sans dire, è avanzato.
Cosa fare quindi con gli avanzi? Ecco che il mio animo da "riciclatrice folle" si è svegliato e, aggiungendo un paio di ingredienti, ho tirato fuori queste deliziose crocchè di riso che accompagnate ad una bella insalatina di asparagi, parmigiano e limone sono andate a ruba!
Ingredienti
500 g di risotto avanzato (io ho usato quello agli asparagi);
50 g di parmigiano grattugiato;
2 cucchiai di pane grattugiato più altro per impanare;
70 g di tomini di capra (quelli che si usano da fare alla griglia), tagliati a cubetti;
150 g di mortadella tritata a pezzetti abbastanza piccoli;
1 litro d'olio di semi di arachide.
Preparazione
Mischiate il risotto assieme alle uova, al parmigiano, alla mortadella ed al pane grattugiato. Se necessario, aggiustate di sale e pepe.
Con l'aiuto delle mani, prendete un pochino di impasto sopra un palmo ed appiattitelo un pochino.
Nel centro, mettere un pezzetto di tomino di capra e richiudete la crocchetta su se stessa con il riso, chiudendo il palmo della mano e dandogli una forma arrotondata ed un pochino appiattita. Continuate in questo modo fino a quando non avrete finito l'impasto.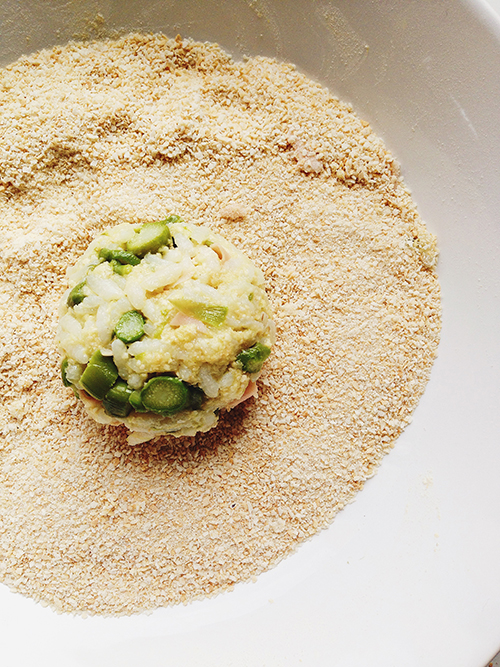 Impanate ora le crocchè, passandole nel pane grattugiato.
Fate scaldare abbondante olio di semi di arachide in una pentola abbastanza profonda e, una volta che l'olio avrà raggiunto la temperatura ottimale, tuffate all'interno le crocchè.
Fate cuocere per circa un paio di minuti da entrambi i lati, fino a quando non saranno ben dorati.
Scolate le crocchi su abbondante carta da cucina assorbente e servitele caldissime.
Voilà! In questo modo il riso non è stato sprecato ed in più avrete preparato un piattino veloce e sfizioso.
Buona frittura a tutti!
Angelina
Asparagus, mortadella and goat cheese risotto croquettes
A few days ago I went to Bologna for my goddaughter Linda's christening. One day, we are at home with my mom, my dad and Linda's parents and of course my mom started bustling around in the kitchen.
My mum prepared a risotto with asparagus, which of course was far too much for the 4 of us (she has never been very good at sizing portions).
I had to find a way to prepare something with the leftovers…  You know I am very good at it, don't you?
So, simply combining a few ingredients, I came up with these delicious risotto croquettes. I served them with a nice asparagus, Parmesan and lemon salad, and they went like hot cakes! :o)
Ingredients
500g of leftover risotto (I used the one I had with asparagus);
50g of grated Parmesan cheese;
2 tablespoons of bread crumbs and some more for breading;
70g of diced goat tomini (small round cheeses, used to grill);
150g of mortadella chopped into small pieces;
Preparation
Mix the risotto with the eggs, Parmesan cheese, mortadella and bread crumbs. You can add salt and pepper if you like.
Take a little mixture into the palm of your hand and flatten it a bit.
Now place a piece of goat cheese right in the middle and form the risotto croquette, closing your palm and giving it a rounded and somewhat flattened shape.
Prepare all your croquettes that way.  Now, rub them into the bread crumbs.
Heat the oil in a deep saucepan and, once the oil is quite hot, dip the croquettes.
Let cook for about two minutes on each side until they are golden brown.
Now drain the croquettes on kitchen blotting paper and serve them very hot.
Voilà! This way, the rice was not wasted and you have a quick and tasty dish!
Good frying to all!
Angelina