Scroll down for English version
Lavorando al Borough Market, ho notato da un po' di giorni sopra il banco ortofrutta di un nostro cliente un bell'espositore pieno di cavoletti di Bruxelles. Io non credo di averli mai mangiati, e se li ho mangiati non ero abbastanza grande per ricordarmelo.
Così ho deciso di prenderne un po' e di provare a cucinarli in un paio di modi diversi. Questo è il primo esperimento che ho fatto e devo dire che è perfettamente riuscito. Dopodiché ho realizzato una succulenta quiche!
Leggendo qua e là su internet, sentivo dire che i cavoletti hanno un gusto un po' amarognolo. Io questa cosa non l'ho riscontrata, forse merito della precottura a vapore? Non saprei. So solo che dovete assolutamente provare a farli così perché sono irresistibili!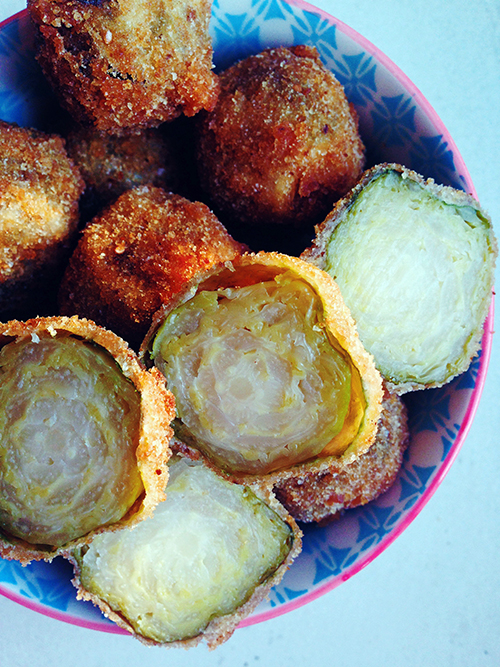 Ecco quali ingredienti vi servono
Circa 6-8 cavoletti di Bruxelles per persona (dipende da quanto siete golosi);
Farina e pan grattato quanto basta;
Sale e pepe quanto basta;
Olio di arachidi per friggere;
2 cucchiai e mezzo rasi di senape piccante;
2 cucchiaini di semi di papavero.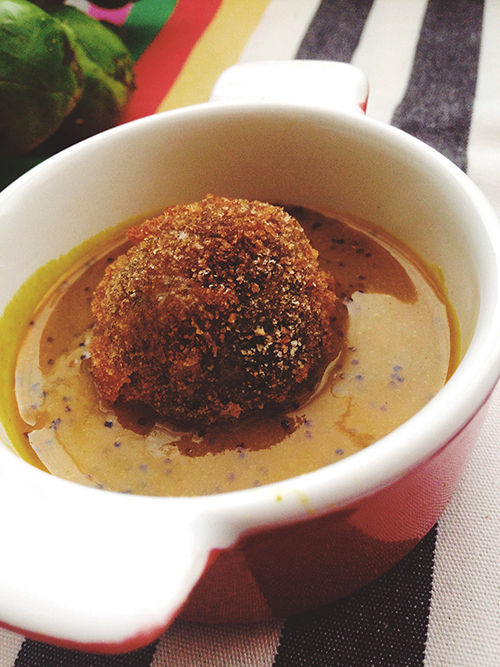 Procedimento
Fate cuocere i cavoletti di Bruxelles a vapore fino a quando, infilzandoli con una forchetta, risulteranno morbidi. Una volta cotti, lasciateli raffreddare.
Preparate le uova sbattendole insieme in una ciotolina, mentre in altre due diverse metterete un pochino di farina 00 e il pan grattato.
Mettete a scaldare l'olio in una pentola non molto grande e con bordi alti. Per capire quando l'olio è pronto, basterà tuffarci dentro un pizzichino di pane grattugiato. Se sfrigolerà, allora l'olio sarà pronto.
Impanate uno ad uno i cavoletti. Prima nella farina, poi nell'uovo ed infine nel pan grattato e tuffateli nell'olio facendo molta attenzione a non scottarvi. Ci metteranno davvero pochissimo a cuocere, quindi fate attenzione.
Una volta che i cavoletti saranno dorati, tirateli fuori dall'olio e fateli scolare su carta da cucina assorbente. Continuate così fino a quando non saranno tutti fritti.
Preparate ora la salsa, mischiando la senape, il miele ed i semi di papavero insieme.
Mettete i vostri cavoletti fritti nel piatto ed accompagnateli con un pochino di salsa.
Ottima idea per un antipasto o aperitivo sfizioso, questa ricetta vi farà amare questa verdura un po' bistrattata da tutti. Io me ne sono già innamorata! 
Buon appetito a tutti
Angelina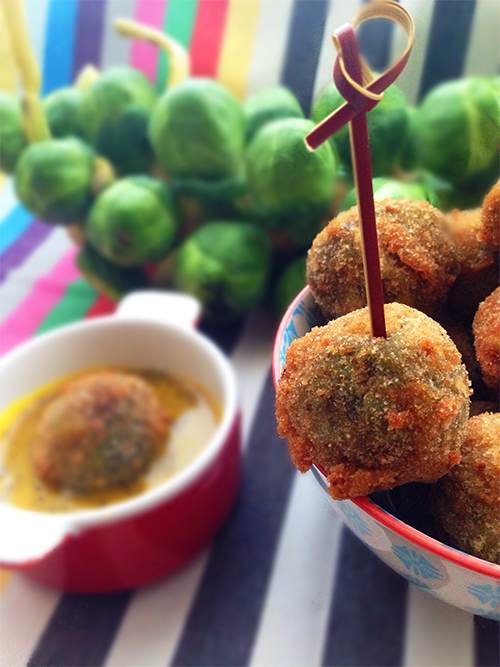 Fried Brussels sprouts with mustard honey poppy seeds sauce
As you may know, I work at Borough Market, and a few days ago, I noticed lovely Brussels sprouts on one of the fruit and vegetable counters. I think I have never eaten Brussels sprouts, or maybe I was too little to remember it!
So I decided to buy a few and try to cook them in a couple of different ways. This is the first experiment I have made and I must say it was a complete success! Woowoo!
Doing a bit of research on the internet, I could read the sprouts taste a bit bitter. However, not at all in this recipe, maybe this was due to the steam pre-cooking? I am not too sure. All I know is that you must try to prepare them this way…  they are just irresistible!
Here are the ingredients you need
6-8 Brussels sprouts per person (depending on how greedy you are!);
Flour and bread crumbs to your taste;
Salt and pepper to your taste;
2 heaped tablespoons and a half of spicy mustard;
2 teaspoons of poppy seeds.
Preparation
Steam the Brussels sprouts until they are soft when you pick them with a fork.  Once cooked, let them cool.
Beat the eggs into a bowl. In other two different bowls, put a little flour 00 and the bread crumbs.
Heat the oil in a saucepan (not too large but deep enough). Just dip a pinch of bread crumbs. They will sizzle when the oil is ready.
Bread the sprouts one by one. First dip them into the flour bowl, then the egg, then in the bread crumbs. Now plunge them into the oil, taking care not to burn yourself please! They will need very little time to be ready, so be careful.
Once the sprouts get golden, pull them out from the oil and drain them on kitchen blotting paper.
Once all the sprouts are fried, prepare the sauce, mixing the mustard, honey and poppy seeds together.
Place your fried sprouts on a dish and accompany them with a little sauce.
Great idea for a starter or a delicious aperitif, this recipe will make you love this vegetable, under valued for too long. I am already in love with it…and you?
Enjoy your meal <3
Angelina